The Referrals Page contains tools to help you refer. You can also view your referral stats.
Referral URL
This is the link you would give to people if you want them to join as your referral.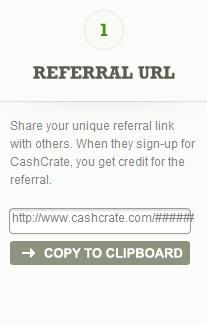 Click the "Copy to Clipboard" button to copy your referral link. Then paste your referral link somewhere else.
Invite Friends
The Invite feature allows you to import your contacts and refer your friends through email. If your e-mail provider is not compatible with the Invite feature, just e-mail your referral link directly to your friends.
See more details about inviting others here:
Make More Money! Invite Your Friends & Family and Earn!
Blog It
Find places to create your own free CashCrate blog or website. Doing this can help you get referrals.
Also, be sure to read this:
How to Create Your Own Site or Blog
If you're not sure what to write about, check out this form thread:
What should I write about when I create a website or blog to get referrals?
Referral Level
On the right side of the Referrals Page, you'll see your Referral Level. You'll also see referral numbers as well as your earnings, etc.